Hi there! ︎︎


January 2023 news:




August 2022 news:

upcoming workshop:
Experimental Mark Making with Dye Plants


Date:
Sunday September 4th, 2022,
10am - 4:30pm
Location:
Outdoors at 51077 MUN 41 E, Ste. Genevieve, MB, R5J 0B2
Instructor:
Francesca Carella Arfinengo, with presentation by Anna Hunter
Cost with materials included:
Sliding scale $75-$95
Long Way Homestead offers a full scholarship to members of equity seeking groups, in addition, an honorarium for participation will be provided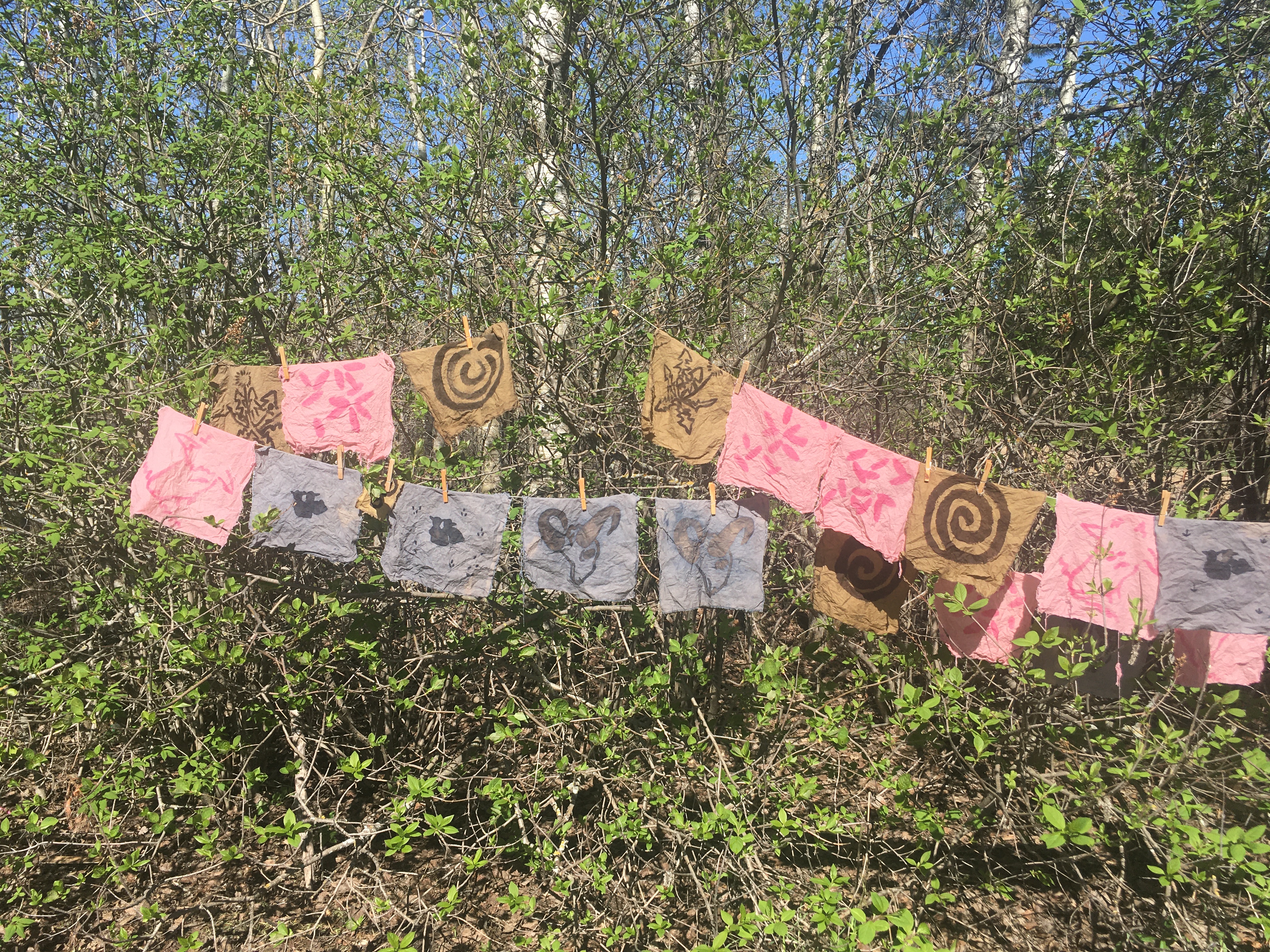 Workshop Description:
This workshop is an experimental art-making session held on the grounds of Long Way Homestead. In this six hour session, we will use cultivated and foraged dye plants to create works on paper and fabric, in response and-or collaboration with sites and beings on the fibre farm.
In the first part of the workshop we will extract pigments from dye plants and create inks.
With these inks, participants will create small works on paper engaging in collaborative drawing exercises and self led experiments.
In the second part of the workshop we will explore two resist dyeing techniques; mordant painting and tying/sewing to create surface designs on fabric. Participants will then dye their fabrics in pots of local colour, including an Indigo vat.
In this workshop you will:
-Extract plant pigments and turn them into ink
-Engage in mark-making exercises that encourage play and collaboration
-Learn a couple of resist dyeing techniques and the basics of natural dyeing
-Hear a presentation by Anna Hunter, owner, on whole systems approach to textile production in the Prairies
-Learn how to make an Indigo vat from Anna Hunter
-Meet the sheep!
-Get access to Long Way Homestead shop on-site
HOW TO REGISTER?
Email francesca.carella@gmail.com


Covid Precautions:

We take the safety of all participants and instructors seriously as we navigate the ongoing Covid-19 health situation. Class will be held outdoors, masks are encouraged. Please do not attend if you have been experiencing any covid symptoms or have known exposure to a confirmed covid case.

Accessibility:
We are constantly working to make our facilities accessible. The driveway, walkways, dye studio and outdoor workshops spaces are grass and gravel and accessible by wheelchair. The outhouse, indoor studio space and wool mill all have one step access. We are working hard to improve accessibility on the farm, thank you for your patience.


Materials Included:

-Dye Plants

-Pencils

-Watercolour paper

-Watercolour brushes

-Guar Gum

-1.5 meter double width of cotton fabric

-Alum sulfate

-Mordant pastes

-Chalk

-General workshop supplies: pots, portable burners, spoons, tape, soap, drying racks, gloves, pins, beads, string

-Light refreshments (coffee, water and snacks)

HOW TO REGISTER?
Email francesca.carella@gmail.com


May 2022 news:


I am pleased to be a member of the Mujer Artista Group! We are preparing for a group show in May 2022 at the new aceartinc facilities.

The opening reception will be restricted to a limited number of guests but the show will be open during gallery hours after May 20th; Tuesday to Saturday from 12pm to 5pm until June 11th.





On May 22nd, I will be heading to Longway Homestead Farm and stay there for one week to conduct a self led residency.
I plan to learn how a textile farm is managed and ran. I will also be using their new natural dyeing outdoor studio to continue some material reseach.
Based on this experience, I will be leading a workshop through the farm's Field School, directed at artists. My aim is for participants to engage with the farm land and produce new work and or experiment together. Date to be announced

Thanks to the support of the Manitoba Arts Council